WordPress Mobile Lets You Manage Content Wherever You Are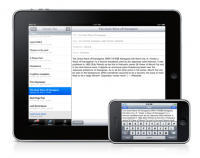 Are you thinking of building a WordPress site or do you already have a WordPress site? Download WordPress Mobile so you can add or update content wherever you are.

WordPress Mobile is available for a variety of platforms:
WordPress for iOS
WordPress for Android
WordPress for BlackBerry
WordPress for Windows Phone 7
WordPress for Nokia
WordPress for WebOS
Remember to change your administration settings under 'Settings' > 'Writing' XML-RPC. Make sure this setting is enabled, then you can use the WordPress mobile app to log in to the WordPress dashboard.